5 Types of Strength Training Equipment for Great Home & Portable Workouts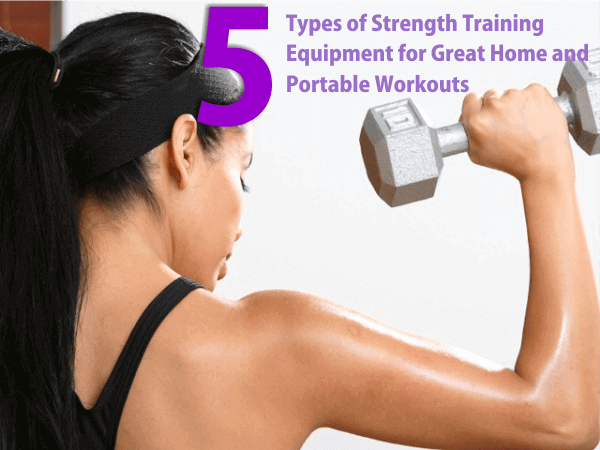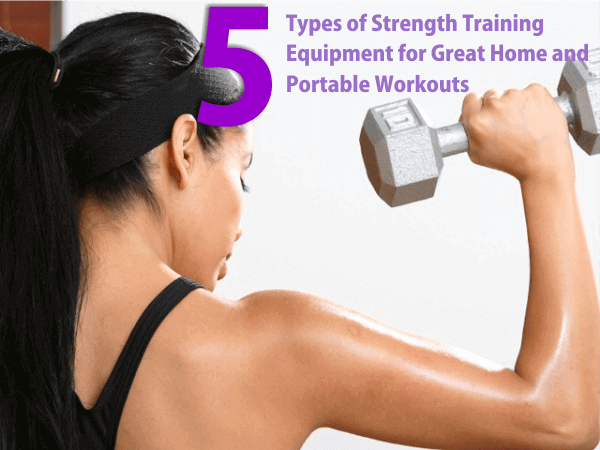 Do you think you need a gym to experience great workouts? Think again.
Are you of the mindset that you need big equipment to kick butt in your home workouts? For many people, and likely most, the answer is no.
With a minimal amount of equipment and very little space, you can experience workouts that can range from easy to extremely challenging; and you can do this in the comfort of your home or make it portable and workout in your backyard, in a park or in a hotel room if you're travelling.
5 Types of Strength Training Equipment for Great Home & Portable Workouts is a list of great equipment that can help you build a better body in many ways.
One key is to start with your desired goal or goals.
Next, consider getting a professional assessment of what you may actually need to do that you may not be aware of; an example of this is hiring a certified personal trainer, physiotherapist, consulting with your doctor or another qualified professional with the requisite legal skills and training to provide insight to help you as you pursue your fitness goals.
A small variety of equipment can yield significant results.
It's important to learn how to use strength training equipment properly and that involves understanding and applying safe and effective strength training techniques; not doing so can possibly increase your risk for injury and either slow down your progress or not help you in the pursuit of your fitness goals.
There is no monetary benefit from recommending the products on the list or from providing links to some websites.
Without further delay (and continued blabbing), here's the list of 5 types of strength training equipment that are great for home and portable workouts:
Your Body: Best equipment money can't buy!
Listing this first is done with the intent to convey the fact that a lot can be accomplished with body weight exercises without adding external weights.
So generally speaking, we have every opportunity to enhance our strength and body by simply using our body weight and it can be easy, moderately challenging to extremely challenging; they key is knowing and applying correct and effective strength training techniques.
There's an array of bodyweight exercises that can help with the many different goals that people have.
Get to it and use your bodyweight to help enhance your body!


---
Dumbbells: A classic type of strength training equipment that's very versatile and portable. Consider owning one of two types of dumbbells: Selectorized/ adjustable dumbbells or rubber hex dumbbells (see the examples below).
There are many types of traditional fixed weight dumbbells designed for either home or commercial use. Commercial dumbbells can be extremely durable (Iron Grip dumbbells are a great example; www.irongrip.com), depending on the brand, but also have a high price point compared to dumbbells designed for home use.
Note about which dumbbells may be right for you: The way a type of dumbbell feels in your hand as you hold it is very important. If you're going to purchase dumbbells hold them and see how much you can wrap your hands around the handle and how comfortable and strong you feel holding them. If you can wrap your hands around the handles of the dumbbells and they feel comfortable and you feel strong holding them, then those are very important factors to consider when selecting the dumbbells that are right for you (how the dumbbells look to you, in terms of aesthetic appeal, may be another factor that you may consider as well).
Below are three types of dumbbells to consider for use at home:
PowerBlock (Highly recommended – selectorized/ adjustable dumbbells)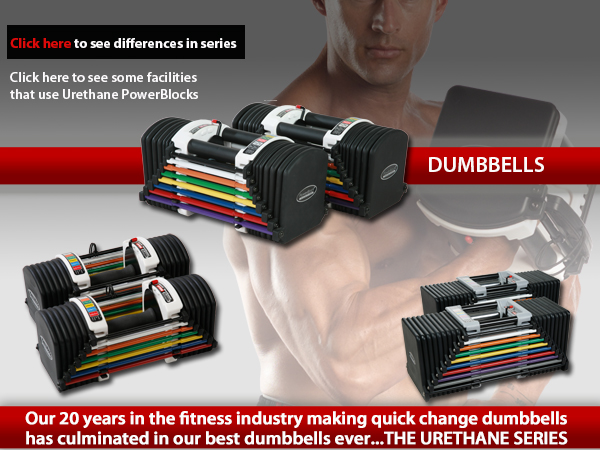 PowerBlock was perhaps the first big leader in the area of selectorized/ adjustable dumbbells. The construction of PowerBlock dumbbells is great and ensures a long life of use.
If you want a large range of weights (for example 3 pounds to 45 pounds or even higher), purchase selectorized/ adjustable dumbbells. The name selectorized or adjustable simply implies that the dumbbells come in one relative size from which you can select different weight amounts such as 5 pounds, 10 pounds, 25 pounds and more. Selectorized/ adjustable dumbbells save space and are portable as well.
PowerBlock's strong and durable design minimizes any possibility that it may experience damage if you decide to take it outside for your workouts; as with most types of weights, good care is required, which includes putting down PowerBlocks safely, not dropping them (which is a recommended with all dumbbells and most weights). Applying those safe usage techniques will ensure a safer workout experience and promotes a long period of good use of your dumbbells).
Bowflex SelectTech (selectorized/ adjustable dumbbells)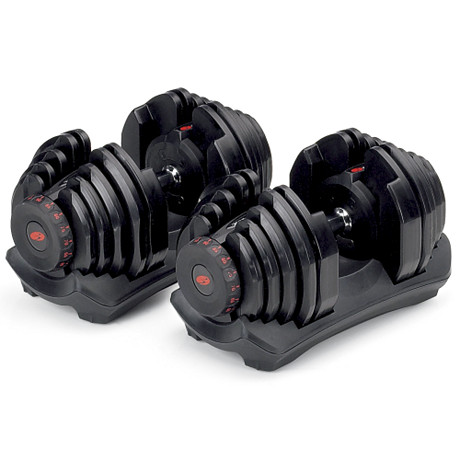 Chances are you've seen infomercials for the Bowflex SelectTech dumbbells. The design and function of Bowflex SelectTech dumbbells differ from PowerBlock dumbbells in a few ways: Bowflex SelectTech dumbbells actually look like regular/ traditional dumbbells and they use a dial and lock mechanism for selecting the weight you want to use.
Selecting a weight amount is as simple as turning a knob to the weight amount you desire.
It's an alternative to the PowerBlock dumbbells.
The construction is less durable than the PowerBlock; these selectorized/ adjustable dumbbells are definitely ones that should not be dropped, even accidentally, because they can easily sustain damage; so safe usage practices are essential to a long period of good use.
Rubber Hex Dumbbells: These are one type of traditional fixed weight dumbbells of which there are many designs (the image below are reflective of the rubber hex dumbbells often aimed for home use).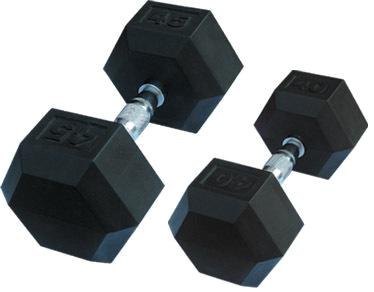 Now this is something you must recognize: traditional looking dumbbells.
If you choose to purchase hex dumbbells (you can get round dumbbells, or whatever fixed type of dumbbells you desire, just ensure you purchase ones that will not damage easily over time such as from paint chipping off), get the ones with the rubber ends because they will provide a longer product lifespan and the dumbbells will not experience rusting and paint chipping that the normal grey coated, all steel hex dumbbells, can develop.
Also, if you get rubber hex dumbbells, make sure that the rubber is a non-marking rubber so you don't get rubber marks on your floor or surface at home.
Rubber hex dumbbells are a good quality product that you can purchase at a decent price that will look good and function well for a long time (but as mentioned above, you may consider other types of traditional fixed dumbbells, it depends on your preferences).
If you choose the rubber hex dumbbells or any other type of traditional fixed weight dumbbells, purchase a weight rack as well to support all the weights in a safe and organized fashion.
---
The Lebert Equalizer: A great type of strength training equipment that will enhance the challenges of your bodyweight workouts.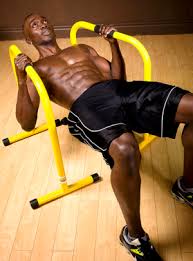 What is this you ask? It's simply a fantastic product that you can use to develop great strength while performing a variety of exercises.
From supine row, to triceps dip to various types of squats and an array of upper body exercises, you can do a lot of progressively challenging bodyweight exercises with The Lebert Equalizer.
Get it!
---
4. Resistance Bands: From low to very high tension, as well as being very portable, resistance bands are a great type of strength training equipment.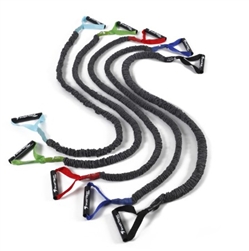 Resistance bands offer different amounts of tension and this will make some exercise more and more challenging, especially when you know how to use the bands in a way that takes advantage of there design and purpose.
Resistance bands are great for travelling; they are light, pack easily and you can use them in many ways in many places.
Purchase quality and durable resistance bands.
One brand to consider is the Smart Toner brand by Twist Conditioning (pictured above).
---
5. Kettlebells: Another type of strength training equipment that will deliver a variety of challenging workouts.
Kettlebells can add a dimension to your strength training and conditioning that you likely did not previously imagine.
The design of a kettlebell allows you to use it in ways that provide unique and challenging workouts.
If you don't know how to use kettlebells or think watching a video is good enough, that may not be the best approach; it's worth your money, time and safety to hire a certified personal trainer who understands how to safely and effectively use kettlebells (there are many people who use kettlebells incorrectly and thereby put themselves at risk for injury).
Not all certified personal trainers understand and teach their clients effective techniques in the use of kettlebells, so do your due diligence when seeking out a professional who can effectively coach you on how to use a kettlebell.
---
All the types of strength training equipment mentioned above are great; you'll be able to maximize the benefits of each type of equipment with the application of safe and effective strength training techniques and workout programming.
Great places to buy the equipment listed above are dedicated fitness stores; they generally have good prices. If you purchase your equipment in the fitness section of a retail store, such as a big department store chain, you may likely pay more, especially for dumbbells. But with the benefit of getting information on the internet about retailers who sell the products and perhaps making a few phone calls, you can determine which retailers offer quality equipment at a good value that may appeal to you.
Here's to wishing you success as you enhance your body.
Need help using any of the equipment on the list above or any other equipment?
Need help to achieve your strength training or fitness goals?
Want to give a gift of personal training to a family member, friend or client?
We'll help you do what you need help doing.
View or Review More
Services

Below

[custom_button text="Contact Us!" title="Custom Button" url="https://focusfitnessandsports.comcontact/" size="large" bg_color="#FF0000″ text_color="#FFFFFF" align="left" target="_self"]

---
---
---